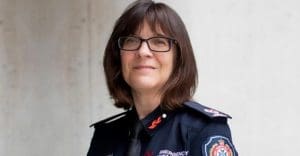 AWE's second Conversation for 2021 features Joanne Greenfield, Assistant Commissioner of Queensland Fire and Emergency Services.
Joanne has an extensive history in leading large-scale operations in complex environments both in Queensland as well as internationally, including health services for 300,000 refugees, London
Helicopter Emergency Service, hospitals and clinics in Kosovo, emergency services at Kings College Hospital, food and medicine supply chains across 10 countries.
Join AWE President Bridget Tehan as she hosts an online conversation with Joanne to explore humanitarianism, leadership, diversity, and reform.
You can watch the recording of the conversation here